Auto Injury Pain: Using Chiropractic to Treat Post-Traumatic Headaches
Auto Injury Pain: Using Chiropractic to Treat Post-Traumatic Headaches
Written By Total Care Injury & Pain Centers on April 22, 2020
---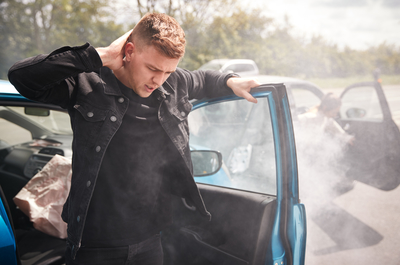 It isn't uncommon to walk away from a car accident with an auto injury.
Sometimes, people develop a condition called post-traumatic headache, a headache that can be more painful and longer lasting than your typical headache.
Today, you'll learn why you should seek treatment for this type of headache and how a chiropractor can help ease the pain.
Post-Traumatic Headache After Auto Injury – Why Be Concerned?
Headaches are one of the most common complaints after an auto accident.
Eventually, these headaches can go away, but a post-traumatic headache is a different type of auto injury. Typically, it develops within a week of the traumatic head injury.
Damage to the head during an accident can lead to swelling and liquid that collects around – and even in - the brain. The swelling leads to intracranial pressure (pressure inside your skull). The result is a post-traumatic headache.
Unfortunately, some of these post-traumatic headaches can turn into a chronic condition (pain that persists for two months or longer) or be a sign of something more serious. Like a subdural hematoma, a life-threatening condition in which blood collects outside of the brain, causing extreme pressure on the brain.
If you've been in an accident and have a headache that won't go away or gets more intense, your healthcare provider will recommend diagnostic imaging to check for significant issues.
How Chiropractic Treatment Can Reduce Painful Headaches
Once you've been cleared for treatment, your chiropractor will recommend auto injury treatment that will realign the spine, as some patients with post-traumatic headache have rotated vertebrae.
Spinal adjustments can lead to decreased pain sensations, in part due to reduced:
Inflammation
Muscle tension
Strain on tendons and ligaments
Even Chronic Pain Can Be Significantly Reduced
At times, post-traumatic headaches can become a chronic condition. Does that mean you have to be in excruciating pain for the rest of your life? No, even someone who has chronic pain can benefit considerably from chiropractic care. Regular adjustments from the chiropractic team at Total Care Injury & Pain Centers can reduce inflammation and ease muscle tension enough to provide relief.
Do you have persistent pain after an auto accident? Contact us right away to schedule an evaluation.

Posted In: Chiropractic Auto Injury Treatment Headache Treatment