Improving Your Posture at Work
Improving Your Posture at Work
Written By Total Care Injury & Pain Centers on June 22, 2020
---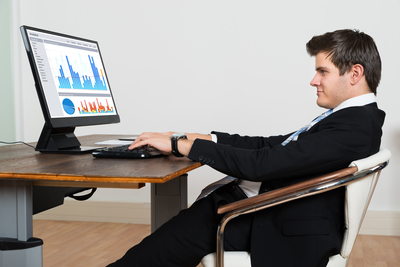 Back pain is the leading cause of disability in the world, affecting nearly 30 percent of Americans alone. While there are several causes of back pain, maintaining a poor work posture is a common cause. Musculoskeletal disorders of the back made up 38.5 percent of all work-related musculoskeletal disorders in 2016.
With so many workers now working from home, maintaining a good work posture is essential to avoid injuries. Working from home and having a desk job can both cause back injuries and headaches because of the extra stress placed on your spine.
3 Steps to Take to Improve Work Posture
Here are three steps that you can take to improve your work posture while staying at home.
1. Be Mindful of Your Spine's Natural Alignment Position
Your spine's natural alignment position is one that keeps your spine completely straight. Having a poor work posture, such as slouching or being in a hunched over position, compresses your spine, pinches your nerves, and creates muscle tension. Improving your posture can be as simple as:
Keeping your computer monitor at eye level
Keeping your back flat against your chair with your shoulders back
Keeping your feet flat on the ground without crossing your ankles or legs
Using a lumbar support tool that will prevent you from slouching
2. Monitor Your Back and Neck Pain
Maintaining a poor posture can cause pain, stiffness, and aches in your back and neck. It can also cause persistent or frequent headaches. Monitoring your symptoms can help you determine poor posture habits that you may have. By recognizing poor habits, you can take steps to improve those habits and consciously work at preventing back and neck pain.
3. Avoid Long Periods of Inactivity
Inactivity is not good for your back. Having a desk job commonly involves long stints of inactivity, which can be even more detrimental if you have a poor work posture. It's essential to give your back routine breaks every 30 minutes. Get up and walk around, stand, or stretch. Not only will activity help your work posture, but it will boost your energy and circulation.
Using Chiropractic Care While Improving Posture at Work
Improving posture has a significant impact on your health and persistent back pain and headaches. The chiropractors at Total Care Injury & Pain Centers are here to help. Our team can teach you about your back's natural alignment position and provide chiropractic care to help alleviate pain and strengthen your back.
Think your work posture may have caused an injury? Don't wait. Contact our team today at one of our eight locations to schedule an appointment.

Posted In: Chiropractic Improve Posture