Treating Symptoms From Whiplash With Chiropractic Care
Treating Symptoms From Whiplash With Chiropractic Care
Written By Total Care Injury & Pain Centers on May 22, 2022
---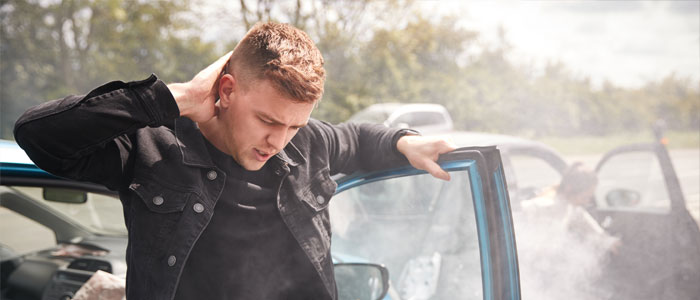 Whiplash is an injury commonly sustained in car accidents, but it can also be caused by falls, sports accidents, and on the job accidents. A whiplash injury occurs when the head and neck snap quickly forward and backward, damaging the muscles or tendons of the cervical spine.
Because symptoms of whiplash can take days or even weeks to appear, it's crucial to seek treatment as soon as you suffer any type of neck injury. At Total Care Injury & Pain Centers, our chiropractors have extensive training and experience in recognizing the signs and symptoms of whiplash. If you've recently suffered an injury and think you may have symptoms of whiplash in South Louisiana, contact us today.
How to Know if You Have Whiplash
Symptoms of whiplash can show up days or weeks after an injury. The most common symptoms are neck pain and stiffness, loss of range of motion in the neck, and worsening of pain when moving the neck. You may also experience headaches, pain or tenderness in the shoulders or upper back, a tingling feeling or numbness in your arms, fatigue, and dizziness.
More serious symptoms of whiplash are blurred vision, a ringing noise in the ears, insomnia or inability to stay asleep, changes in mood or personality, trouble concentrating, memory issues, anxiety, and depression. If you have suffered an accident or injury and have neck pain or any other symptoms of whiplash in South Louisiana, visit us for a consultation and diagnostic testing today.
Chiropractic Treatment Methods for Whiplash Symptoms
When you come in for your first visit, we will give you a thorough examination, including onsite diagnostic testing. We will quickly determine the extent of your injuries so we can set you up with comprehensive chiropractic care that will eliminate your symptoms. We have found that patients suffering from whiplash have the most successful recovery when we combine multiple chiropractic care treatments.
For whiplash treatment, we provide chiropractic adjustments, decompression therapy, rehabilitation services, and massage therapy. We may also suggest therapeutic exercises you can do at home, and certain ergonomic or lifestyle changes that you should make while you're recovering.
Our Chiropractors at Total Care Injury & Pain Centers Can Treat Your Whiplash
Our experienced doctors at Total Care Injury & Pain Centers are skilled in multiple techniques, including diversified, toggle, activator, arthrostim, impulse, cox flexion/distraction, Thompson, SOT, cranial adjusting, and more.
If you're showing symptoms of whiplash, it's crucial that you seek treatment for symptoms as soon as possible. If you need whiplash treatment in South Louisiana, call us today at (888) 693-9983 or call one of our nine convenient locations.

Posted In: Chiropractic Auto Injury Treatment Whiplash Treatment Diversified Technique Activator Adjustment Arthrostim Cox Flexion Distraction Thompson Technique